West Virginia is a state…
A state that is renowned for its natural scenic beauty. Whether you seek to ski, hike, rock climb, or swim, this state has the perfect recreational spot for you. Try one of these remarkable outdoor playgrounds for your next trip to the "land of rugged mountains."
Blackwater Fall State Park: Davis, West Virginia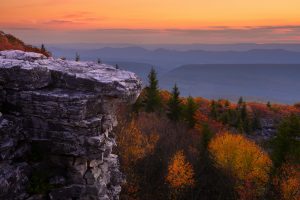 Blackwater Fall State Park gets its name from the amber-colored falls of the Blackwater River. The five-story high falls plunge into an eight-mile long gorge that winds its way through the Park. The "black" waters actually come from fallen hemlock and red spruce needles that have deposited into the river from nearby forests. Inside, visitors find a year-round vacation spot with countless regional foods and accommodations. Whether you come to sled in the winter, enjoy cool evenings of spring and summer, or watch the leaves change from lush greens to the brassy yellow and orange of autumn, Blackwater Falls State Park awaits your arrival. Information about special overnight packages and upcoming events can be found online at blackwaterfalls.com or by calling 304-259-5216.
Monongahela National Forest: Elkins, West Virginia
Established in 1920 and located in the north central highlands of West Virginia, the Monongahela straddles the highest ridges in the State. Variations in the terrain combined with the precipitation in the area work together to create an ecologically diverse location. There are breathtaking views and calming country roads that run through the Forest. The site is also a "working" forest which produces timber, minerals and recreational opportunities for the region. More information about special spots to see inside the forest and obtaining passes & permits can be found at fs.usda.gov.
Kanawha State Forest: Charleston, West Virginia
Just seven miles south of Charleston sits the Kanawha State Forest. This spot is filled with some of the state's most popular picnic areas, hiking and mountain biking trails and cross-country skiing runs in the state. The 9,300-acre forest is a favorite camping site for families because it has a fully equipped campground with a full playground. It is also a heavily traveled spot for naturalists as it provides a nesting habit for 19 species of wood warblers. Ornithologists come from around the world to observe these birds in their natural habitat. More information about upcoming events, camping sites and cabin rental opportunities are available at kanawhastateforest.com