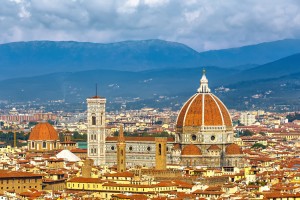 If you know your Italian history you know that the Italian Renaissance was one of the most influential periods on art and culture. The main hub of this movement was Florence, it is from here that the knowledge and influence spread and spawned a whole new way of looking at and embracing the world. Although the Italian Renaissance reached its zenith in the 15th century, this town still embraces art and culture and is just waiting to show and impart the wisdom on to you.
There are three things that are an absolute must to visit when you are in Florence. Whether you are a first timer, or you have visited the city many times, they still don't lose their allure. Come with Ultimate Excursions Travel as we take a closer look at 3 of the best sites you won't want to miss on your trip to Florence, a top destination for travel.
The Uffizi Gallery can be visited time and time again. Built in the 16th century, it houses some of the premier paintings of the most influential Renaissance artists. Step back and gaze at the masterpieces of the masters including Michelangelo, Tintoretto, and Botticelli just to name a few. This vast collection showcases these Italian artists.
The Ponte Vecchio is one of the only bridges to withstand the bombings of WWII. This famous bridge, which spans the Arno, was built in the 14th century. Besides being a perfect photo opportunity, there are numerous shops to purchase mementos of your trip. Merchants have sold their wares on this bridge for centuries. Stop in at one of the many gold and silversmith shops, you are sure to not leave empty handed.
The last but definitely not least on the must see list in Florence is the Duomo. It dominates the skyline of the city, and can be seen from nearly every single vantage point. It is one of the most iconic monuments in Italy, and that as we all know is saying something. It was built by the Renaissance architect Brunelleschi. The stunning dome is decorated with stained glass windows and beautifully painted frescoes.
Florence is a city to visit time and time again. You will feel inspired in the art and culture of the city that spawned a movement and is still inspiring centuries later.