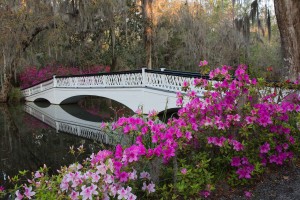 On the official website of the San Francisco Botanical Garden the organization is labeled as "a living museum within Golden Gate Park." The 75 year-old garden sits on 55 acres of landscaped gardens, open space and is home to over 8,000 different species of plants from around the globe. Find out more about this top destination for travel with Ultimate Excursions Reviews.
The facility opened in 1940 as an arboretum and botanical garden. The layout of the space at the time was designed around the central fountain and the Zellerbach Garden of Perennials. There are a number of paths currently that drive outward from this point to the variety of plant collections currently housed in the Garden. In the late 1950s landscape architect Robert Tetlow created the master plan that included additions of fountains, meadows, and the current layout of the garden. He was later brought in to design other various aspects of the grounds.
Over the years the Garden has taken advantage of the mild coastal climate of San Francisco and expanded the collection to include plants from the Mediterranean and other mild climate regions. This has aided in the renovation of seven gardens on the grounds and has aided in the steady development of the Garden since its opening. There are several gardens available to explore, including: the Magnificent Magnolias; Australian Garden; Ancient Plant Garden; Andean Cloud Forest and Chilean Garden; Conifer Collection; Redwood Grove; California Native Garden; Garden of Fragrance and Zellerbach Garden.
For guests who are interested in learning more about the plant life that dwells in the Garden, there are docent-led tours for guests of all ages, sponsored community events, an educational program geared toward local school children and a comprehensive horticultural library. In addition there are monthly plant sales at the Garden. Guests can be guaranteed to find a unique selection of plants that are seldom found at commercial plant and garden stores. They also hold an annual plant sale (on May 6th and 7th this year) that offers over 2,500 different types of plants for guests to select from and take home.
The Garden is located in the Golden Gate Park, with entrances at the corner of Ninth Avenue at Lincoln Way. Entrance admission is $8 for the general public and free for Members, residents of San Francisco, and school groups. To explore the Garden online go to sfbotanicalgarden.org.