A natural wonder, Ultimate Excursions Reviews the Painted Desert, a unique U.S. destination you won't want to miss.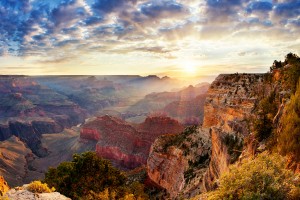 Arizona is home to the Painted Desert, one of the nation's most beautiful natural landscapes. The Painted Desert is a crescent shaped site near Cameron, Arizona that spans roughly 160 miles. Known for its comfortable climate and brilliant hues, the variety of colors in the sandstone can be attributed to varying mineral matter in the sediments. The leisurely rate at which the minerals deposited account for the red, pink, lavender, gray, and orange colors that draw in tourists and locals.
Visitors should start out at the Painted Desert Visitor Center where there is a hands-on exhibit and an orientation video that provides historical information about the site and how it formed. Millions of years of history passed through this area and created the multi-layered scenic landscape. It took shifts in the earth's crust, earthquakes, and volcanic eruptions to create the peaks, hill, mountains, and valleys that currently exist. From Spanish explorers in the 17th Century to military personnel, tourists, ranchers, and other locals, the Painted Desert has held a magical draw.
Whether guests are novice or expert explorers, the park offer a variety of hiking trails in the colored hills. Guests have the opportunity to explore an array of breathtaking views and landscapes, walk in the footsteps of ancient tribes and have the opportunity to take home a snapshot of a land where dinosaurs once wandered freely.
Drivers will be charged $10 per car for a 7-day pass. Those traveling through on bike, motorcycles, or by foot should expect to pay $5 for the 7-day pass. Annual National Park passes may also be used to waive entrance fees).The location of the park gives tourists an opportunity to sightsee multiple desert locations. The site borders the southeastern rim of the Grand Canyon, runs to the Petrified Forest National Park, and edges the Wupatki National Monument Indian Ruins. It is about 95 miles east of Flagstaff and 55 miles from the New Mexico border, near Interstate 40. The entrance is roughly 25 miles east of Holbrook, Arizona. Most of the Painted Desert is protected as National Wilderness Area where motorized travel is limited.