In 1783, a French scientist, Pilatre De Rozier…
Placed a variety of livestock into the makeshift basket of a hot air balloon and launched it into the sky. It stayed afloat for a mere 15 minutes before it came crashing back to the ground. It would be hard to imagine that he ever foresaw a future wherein entire festivals would be dedicated to filling the sky with a variety of brightly colored balloons that developed from his invention.
New Smyrna Beach Balloon & Sky Fest, New Smyrna Beach, Florida. April 15- April 17, 2016
What started as a small one-night gathering of ten hot-air balloons in 2009 has grown into a three-day family-friendly celebration. The Balloon & Sky Fest features evening balloon glows, morning flights, air shows that run both during the day and in the evening, a full carnival for the kids, live music and entertainment and a full selection of vendors. To participate, head over to 602 Skyline Drive in New Smyrna Beach, Florida. This year organizers expect to have 20-25 balloons participate.
Fiesta Bowl Rugby & Balloon Classic, Scottsdale, Arizona. April 23, 2016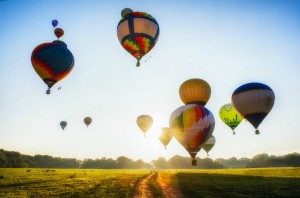 This event returns for its third year of celebration when it kicks off the Southwest's largest rugby event. The Mexican National Rugby Team faces off against Arizona State University, a match-up that is bound to get the crowd riled up. This year's balloon display includes an 8-story Darth Vader and Yoda that are designed to light up the night sky. The event takes place at Scottsdale Stadium at 7408 E. Osborn Road in Scottsdale, Arizona. Though the celebration is showcasing a small number of balloons this year, it is expected to be an outstanding evening of entertainment.
U.S. Bank Great Balloon Fest, Louisville, Kentucky. April 28- April 30, 2016
Louisville Magazine ranks the U.S. Bank Great Balloon Fest as one of the best events of the U.S. Bank Kentucky Derby Festival. This year the festival has combined the annual Derby Balloon Race and Great Balloon Glow to create one spectacular event. The festivities take place the weekend before the Kentucky Derby and usually attracts tens of thousands of spectators. The Balloon Fest takes place at Bowman Air Field and Kroger's Fest-A-Ville on the Waterfront.
A full listing of upcoming national and international festivals can be found online at HotAirBalloon.com.