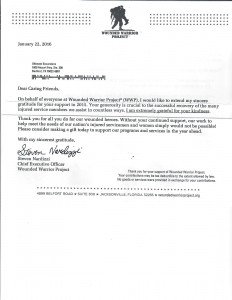 Ultimate Excursions is proud to be able to give back to those who deserve it most in our community and throughout the U.S.
One of the best feelings in the world is to be able to give back to those who need and deserve it most. In this case, the thousands of veterans who are suffering from mental and physical injuries due to their time serving their country in the armed forces. One of the most well-known and respected groups which has been created to help them is known as the Wounded Warrior Project or the WWP. Catering to those veterans and their families who need it most, this group helps in many ways.
Wounded Warrior Project or WWP, began when a number of veterans and their friends saw a need to help those returning from war in Afghanistan and Iraq. Since then, this once small program, has continue to grow and expand in an effort to meet the needs of these warriors and their families.
Since they began helping, Wounded Warrior Project has helped over 83,000 veterans and an addition 15,000 plus family members who need assistance. Programs are designed to help the minds and bodies, spirits and even economic needs of our veterans. From transition training to help veterans manage their money, to peer support, physical therapy and long-term support initiatives, this program continues to help those who need and deserve it most in the U.S.
Ultimate Excursions is a leader in the resort marketing and development industry. With over 75 years of combined experience, Ultimate Excursions has proven to be effective in all its projects. Some of our projects are the Acapulco Plaza in Acapulco, Pirámide Del Rey, Club Lagoon Cancun and the Xanadu Freeport Grand Bahama just to name a few. Ultimate Excursions can help with your project from concept to implementation. Specializing in sales and marketing, Ultimate Excursions and its professional staff can help with design, demographics and more.