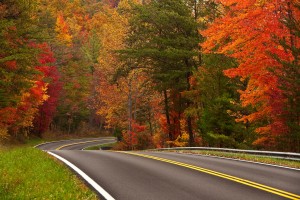 There is no better way to take in our great nation then by hitting some of the highways and byways that crisscross our countryside. Yes, we can fly from coast to coast, but there is nothing quite like coming over a rise with the road stretched out before you and gazing upon some of the most picture perfect scenery this world has to offer. If you are looking for a great way to explore the U.S., hit the road and enjoy one of these 3 amazing scenic drives.
Many of the US' scenic drives take you through the nations national parks and forests. The San Juan Skyway in Colorado takes you through several of them. The route is 233 miles and takes you through the San Juan National Forest, Grand Mesa, Uncompahgre, and Gunnison National Forest. On this five hour drive between massive mountain peaks, you'll be able to stop off at quaint little towns and explore ruins of Native American homes. Depending on the season that you drive in your views will be wildflowers, the colorful fall foliage or snowy landscapes.
Park Loop Road in the Acadia National Park in Maine is best visited in either the summer or the fall. This is the busiest season here, so if there is traffic the typically hour drive might take a bit longer. Take a stop off this 27 mile long scenic drive and take a hike through the park. You will not be disappointed with the rugged coastline of the North Atlantic Ocean.
The Pacific Coast Highway, also known as Highway 1, in California has often been described as one of the most scenic drives in the world. The entire drives typically takes five hours, but there is a lot of traffic during the summer. Luckily California has nearly perfect weather year round. This 263 mile trek will have you driving passed some of the highlights of iconic California including the redwood forests, Monterey Bay and Sonoma wine country.
These road trips are about taking in America's varying landscapes in an age old tradition of where it's about the journey and the majesty of the landscape. Ultimate Excursions encourages you to get out there and find out for yourself what makes these journeys some of the best this country has to offer.