When you step into Rosie's Diner in Aurora, Colorado, it is like taking a step back in time.
Rosie's, a stainless steel modular diner, was built by Paramount, one of the last diner manufactures in the country.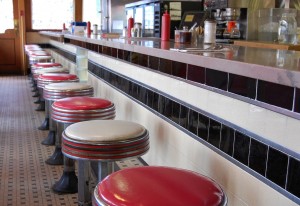 The diner was originally located in Little Ferry, New Jersey where it was called "The Silver Dollar Diner," and very well might be one of the most well-known diners of the last 50 years. In the 1970s it was featured in series of commercials for Bounty paper towels, in which actress Nancy Walker was cast as Rosie, a New Jersey diner waitress. It made its way across the country to Rockford, Michigan where it stayed for a while before it was purchased by current owner Sam Dehghani and moved to its current location.
Rosie's offers a step back in time with a menu options that include vanilla cokes, frosty root beers, old fashioned handmade milkshakes and malts, and all day breakfast options. The menu has traditional diner offerings from chicken wings to salads and burgers. They also have a nice beer, wine, and mixed drink selection to pair with your entrée selection. The prices are affordable and range from burgers that cost $8 to $16 for a 12 oz. T-bone steak with sides. This is a great place for a family dinner or an outing with friends. Regardless of who is in your party, you are sure to find something on the menu for everyone to enjoy.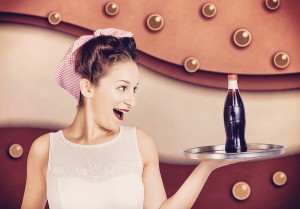 Come for the food, but hang out a bit for the atmosphere. The staff is inviting and fun, a quarter will get you two songs on the jukebox in your booth, and the 50s décor and neon lighting really adds to the diner experience. The diner is located at 14061 East Lliff Avenue in Aurora, Colorado.
It is open daily from 6am to 9pm and hosts a weekly Crusin Night on Wednesday Nights that runs May through October. Each week 40 or more classic cars converge on the diner for display and celebration.
More information about the diner is available on rosiediner.com or by calling 303-752-3663.