Located in downtown San Antonio
The San Antonio Museum of Art is housed in a historic Lone Star Brewery complex that was converted in the late 1970s. The $7 million renovation took a number of years and in 1981 the Museum opened its doors to the public. Its location on the northern section of the popular San Antonio Riverwalk, makes it is the anchor to the "Museum Reach" expansion that the city completed recently. It specialized in pre-Columbian, Spanish Colonial and Latin American folk art. Its permanent collection also includes American and European paintings, photography and sculpture from the 18th-20th centuries.
The collection consists of more than 30,000 works of art that cover over 5,000 years of cultural history from all regions of the world. It is also home to one of the most comprehensive collections of Egyptian, Greek, and Roman art in the United States. Recent acquisitions include works by Giovanni Battista Piranesi, Miguel Herrera, Japanese works from the 19th century, and Chinese works from the Yongzhegn period.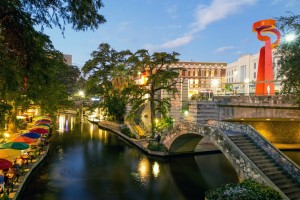 In addition to the exhibitions, the Museum has community outreach and education programming available to local schools and to the public. There are a variety of programs available to families, children and adults. Programs have a vast range and include: First Sunday Family programs, which encourage children and families to explore the collections, create art, and enjoy interactive programming; Art and Culture Summer Camp, which includes a series of programs led by professional artist and educators that encourage participants to work in several mediums, learn about the history of art, and explore the campus; gallery lectures and talks, performances and film lectures and a variety of other art based programming.
The Museum is located at 200 West Jones Avenue in downtown, San Antonio. Members: Free Adult: $10 Seniors (65+): $7 Students and Military (with ID): $5 Children under 12 are free. Hours of operation are: Tuesday and Friday: 10 a.m.-9 p.m. Wednesday, Thursday, Saturday, and Sunday: 10 a.m.-5 p.m. The Museum is closed on Monday. Further information about upcoming events, special exhibitions, or general information is available at samuseum.org or by calling 210-978-8100.