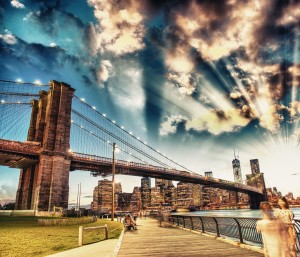 You might see yourself as one of the characters of the iconic series Sex and the City, but you can leave you peep-toe stilettos in your hotel room for the day, put on a comfy pair of shoes and get ready to explore the Big Apple by foot. A walking tour is one of the best ways to get out and discover the city. Find out for yourself what makes this great city so great on an Ultimate NYC Excursion.
One of the best strolls to take in the city is down West 4th Street. It runs right through the heart of bohemian Greenwich Village and is one of the most picturesque streets in all of New York City. During the summer months, the verdant greenery abounds and seems to almost encompass the historic homes and storefronts. You will not be able to resist clicking away with your camera with all the things to see from people to nature. If you happen to be in the city during the winter West 4th Street will definitely not disappoint after a freshly fallen snow, it is a lovely urban winter wonderland.
If you are looking for a unique atmosphere a trip to SoHo is where you should be heading. You will find plenty of unique and kooky shops and boutiques to peruse and shop. If you only have time for a short walk here, make sure its Prince Street. It's a mere 10 blocks but will be thoroughly enjoyable. You will be able walk by the city's first cathedral, and its most famous, Old St. Patrick's Cathedral.
Irving Place is one of the hidden gems of the city. It only covers six blocks, so even for those that would rather cab it; you really can't make an excuse about getting out and enjoying the walk. The street runs between 14th Street and Gramercy Park, one of the most beautiful green spaces throughout the city. If that short walk has you feeling a bit parched stop in at Pete's Tavern. It is nearly 150 years old, and one of the oldest dives in the entire city.
These walks will have you experiencing the city in its full splendor. Get away from the shoulder to shoulder crowds, enjoy a leisurely stroll and take in this city for all its worth.