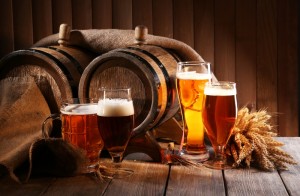 Munich is a city that is teeming with culture and history. While these may be two of the main reasons, people travel here, they are just a couple of the reasons that they stay. From markets to attractions, Munich has hundreds of amazing places to go and things to do including its most popular, beer gardens. These are your traditional German beer gardens, that are often imitated around the world, but you'll can't truly get the full experience unless you are here .Beer has long been a part of the culture and traditions in Munich, and what better way to embrace this part of Munich's history than by heading to these popular destinations. Ultimate Excursions invites you to come with us as we take a closer look at some of the most popular beer gardens/halls Munich has to offer.
A must stop in and obviously to have a cold one is Waldwirtschaft, more easily referred to as Wa-Wi. It is located in the southern suburbs of Munich and is quite a cozy establishment. When the weather is nice hang out in their outdoor space. They offer big band sounds with live jazz bands and have traditional German food stalls.
If you are looking for a more traditional place which is less touristy, stop in at Augustiner Braustuben. Featuring an outstanding score by Beeradvocate, this location is a great place to enjoy some local food and beer without the crowds. This beer hall has a great atmosphere and the booze and food are cost-friendly, always a major selling point.
Another great one is Augustiner Keller, which has an indoor beer hall as well as an outdoor beer garden. The outside area can hold up to 7,000 people. That is why you always see the cocktail servers carrying armloads of steins.
Although it is the most popular of the beer halls in Munich, Hofbrauhouse is also one of the most traditional. This beer house helped shape the beer culture of this city and should at least garner a brief stop.
Last on our list is Hirschgarten. Hirschgarten is the largest beer garden in the world and can hold up to 8,000 people. It has been part of the Munich beer scene since 1791.
The beer culture has been part of the cultural heritage of Munich for centuries. Making a stop at any and all of these beer gardens are sure to have you enjoying your vacation more.