Whether you are looking for the perfect fishing spot or day at the beach with the family…
The shores of Western and Northern Michigan are waiting to welcome you. With more than 3,200 miles of shoreline reaching from the Keweenaw Peninsula to Three Oaks, there are many opportunities to dig your toes in the sand, roll out your beach towel and relax to the sounds of gentle waves as they roll into shore. As you hit the road for your family summer getaway consider these Michigan beaches.
Pier Cove. Located in Fennville, this tiny beach offers a great spot for families with small children who may be intimidated by the big waves of Lake Michigan. The beach and the parking are free, though limited. It is an ideal spot for children to collect rocks and driftwood for building in the sand. One downside is that there are no bathrooms or changing areas, so it is important to plan ahead.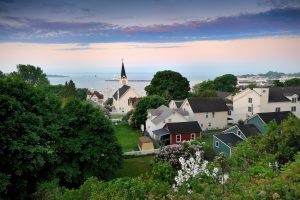 Oval Beach. Ranked as one of the best freshwater beaches in the USA by National Geographic Traveler Magazine, this beach offers full showers, bathrooms, and concessions for visitors. In order to reach this destination, you have to meander down a long and winding road. Once you are there, however, you find lush grassy dunes, clear sandy bottom water and a beautiful view of the sunset.
North Beach Park in Grand Haven is mostly populated by locals. It is far less crowded than Grand Have State Park and Grand Haven City Beach that are just down the road. This spot offers a quiet respite for families, offers a small kids play area, and lots of bathrooms.
Frankfort Beach. Since this area is harbor-like the waves here tend to be smaller and the water a bit calmer than other beaches on the western part of the state. There is a lot of beaches to enjoy and access to changing rooms. It is a terrific spot for families that are looking for a low-key outing.
Sleeping Bear Dunes. If you are traveling in Western/Northern Michigan you cannot skip this National Lakeshore Park. Experience the climb of the Dunes, hit the beach to cool down and then head into Empire or Glen Arbor for some of the best freshwater fish around.
The shores of Lake Michigan are waiting for you and your family to explore. Come see what the Great Lakes state has to offer.