With all of the poshness that goes into Hollywood productions…
It should come as no surprise that even cemeteries in Los Angeles are huge productions with beautiful, lush grounds, and elaborate scenery. Here are a few of the more popular final resting spots of Hollywood's elite.
Pierce Bros: Westwood, California
Hidden behind towering high-rise buildings along Wilshire Boulevard is Pierce Bros Westwood Village Memorial Park. If you did not know that this cemetery existed, you might drive past it without even realizing that it was there. Unpretentious in display, this spot is the final resting spot for some of the biggest names in Hollywood, including Marilyn Monroe, Natalie Wood, Walter Matthau, Eva Gabor and Truman Capote. If you should choose only one "celebrity" cemetery to visit, this one is the best choice as it is relatively small, the stars graves are easily located and they are all clearly marked.
Forest Lawn Memorial Park: Glendale, California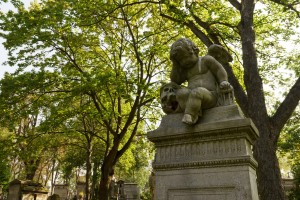 In 1917, Dr. Hubert Eaton designed Forest Lawn Memorial Park. He felt that most cemeteries were "depressing stone yards," and pledged to create a final resting place that reflected a more optimistic atmosphere. More major Hollywood stars are buried in this locations than at any other cemetery in the greater Los Angeles area. The park is 300 acres of lush green hills filled with chapels, sculptures, and architectural wonders. Part cemetery, part art and architectural gallery this location is a popular spot for weddings as well as funerals. Famous people buried here include Jimmy Stewart, Robert Taylor, L. Frank Baum, George Burns and Gracie Allen, and Sammy Davis Jr. The main gate of the cemetery is located at 1712 Glendale Avenue. Additional information can be obtained by calling 323-254-3131.
Hollywood Forever Cemetery: Los Angeles, California
From the front gate of this cemetery, visitors can see the Hollywood sign in the Hollywood Hills and the back lot of Paramount Studios; that alone seems like the perfect reason for celebrities to have this as their final resting spot. Rudolph Valentino, Mickey Rooney, and Tyrone Power are just a few of the Old Hollywood stars who are interred on the grounds of this famous cemetery. Established in 1899, the grounds are filled with countless outdoor graves, two indoor mausoleums and a lot of old-fashioned headstones and monuments. Maps of the graves of the famous are available at the cemetery office.
It is important to remember when visiting these spots that they are functioning cemeteries for people other than Los Angele's elite. Be careful to be respectful of grieving families as you explore the final resting spots of Hollywood's rich and famous.