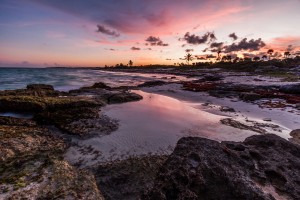 On the southern tip of the Riviera Maya is the once sleepy town of Tulum. Now the beach destination to head to on the Mexican coastline, it was founded only fifty years ago, and was carved out of the jungle to become a hippie outpost. Now the city has an interesting counterculture with a united front of 1960's idealism and more recent ideas of ecotourism and sustainability. Tulum is an interesting, beautiful and unique destination that will leave you looking at Mexico in a whole new way. Ultimate Excursions invites you to come and take a closer look at the best Tulum has to offer you.
If you travel to the northern end of the main beach you will find the touristy area of the city. This is known as the jungle side of Tulum. It is where the first resorts of the city where built, and you will find the streets teeming with vendors ready to sell their wares. You can pick up any kind of souvenir you can think of from a colorful hammock, to handmade quilts, to beautifully wrought handmade jewelry. Of course, you will be able to find your post cards and magnets too. This area is a shopper's paradise.
Just south of the older, jungle part of the city, you will find all the rustic cabanas, spas, and hippy-like, yoga-friendly resorts. You will also find unique and interesting boutiques to pick up a colorful and fun sundress to perhaps wear out for. This is also the perfect place to grab some food as there are tons of new cafes and restaurants ranging from rustic cuisine to delicacies unique to the area ideal for any traveler looking to experience the flavors of the region.
Get out of town on a brief five minute drive to experience the ancient areas of the outskirts of Tulum. This is where you will find the relics of past civilizations, the sites for which the region has come to be known. The area was populated from the 13th to the 15th centuries and was used as a getaway from the larger cities by its ancient inhabitants, much like today.
Tulum is emerging as one of the stylish beach destinations that pays homage to its conservancy as well. A great place to travel and enjoy the best of what Mexico has to offer, it is a perfect way to see a new side and historic side of Mexico all at once.