From the people, food, and culture,
To the Pacific Coastline, there are a number of reasons to visit Mexico. Here are a few of our favorites.
1. The People
There is a certain level of friendliness that is exhibited by the people of Mexico that you do not find elsewhere in the world. It seems like everyone greets you with a smile on their face, a willingness to be of assistance and the desire to make your experience memorable.
2. The Food
The food in Mexico is some of the freshest and most flavorful food around. From the small stands on the roadside selling local fare to the higher end places you might find near the resorts the food is filling and quite memorable.
3. The Cultural History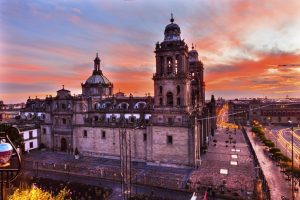 Mexico is home to a number of well-preserved archaeological ruins. There are several locations to experience and explore the Mayan ruins including Balamku, Becan Ruins, Campeche, and Bonampak, Calakmul, Chacchoben, Cha Mool, Chichen Itza and more.
4. The Music
Whether you are a fan of Mariachi music, modern rock or smooth jazz, there is a live music venue waiting to greet you here. Many of the resorts employ local bands to entertain guests and several restaurants have traveling minstrels to play at your tableside.
5. The Beautiful Coastline
Mexico greets you with close to 28,000 miles of warm coastline, white sandy beaches, and calm turquoise seas. From the Riviera Maya on the Yucatan Peninsula to Southern Caribbean Coast, these coastal areas have been developed as destination locations. Each part of the coast offers a unique experience for tourists and locals alike.
Riviera Maya. The northern section of the Caribbean coast runs for 75 miles down the Yucatan Peninsula. It includes Cancun and Playa del Carmen and is lined from end to end with hotels and happening tourist hot spots.
Southern Caribbean Coast. This section covers 28 miles from Felipe Carillo Puerto to the state capital Chetumal near Belize. Mostly a tourist haven the area is comprised of fishing villages and locations that are more laid-back than the more populated areas.
Pacific Coast. Often referred to as "The Mexican Rivera," the 2,200 miles of this coast are popular with tourists and include Acapulco, Puerto Vallarta, and Mazatlán's Malecon.
The Gulf Coast. This section stretches from Tamaulipas to the Yucatan Peninsula and is home to the country's wetlands that are vital to the coastal ecosystem.